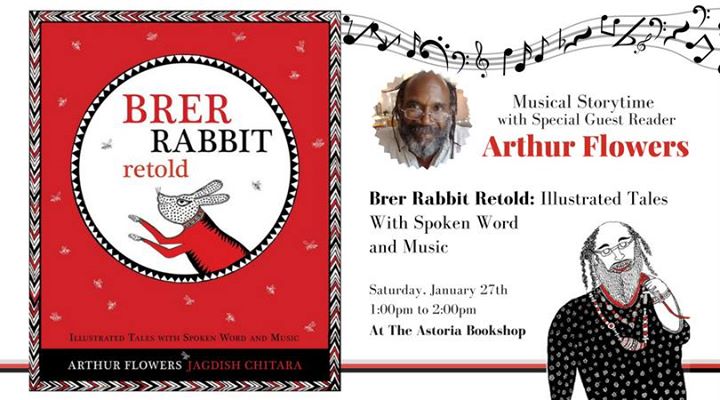 Join us on Saturday, January 27th from 1-2pm for a special musical story time with guest author Arthur Flowers as he reads and performs Brer Rabbit Retold: Illustrated Tales with Spoken Word and Music, with the Kalimba/Mbira instrument.
The Brer Rabbit Stories were originally oral tales told by slaves from the American South. In this powerful rendering for children and adults, writer and griot Arthur Flowers re-tells them as wisdom tales for a contemporary audience, bringing them back to us as one of the sturdy roots of African-American literature.
Arthur Flowers then takes his stories back into the realm of the oral, with a musical spoken word performance in collaboration with a group of young Indian musicians. This genre-defying cross-media project pushes the boundaries of narrative art – inviting the reader (and listener) to explore through sight and sound, text and imagination.
Flowers is a Delta-based performance poet and writer, teaches at the English Department of Syracuse University in the United States. A native of Memphis and co-founder of The New Renaissance Guild, he considers himself heir to the western written tradition as well as the African oral one. He has written fiction as well as non-fiction, including Another Good Loving Blues and Mojo Rising: Confessions of a 21st Century Conjureman.
For more information about Flowers and the event visit https://www.astoriabookshop.com/?q=h.calevent&eid=1466.